Finding the ideal technology for your business and learning how to leverage tools is critical to driving brand loyalty and higher profits. There are many aspects of your business where this can take shape, but for property managers, a solid first step is automating rent collection and processing. This property manager's guide to leveraging online rent payments explores the advantages of taking the first step toward becoming a paperless organization poised for success. Find out why implementing online rent payment makes perfect sense, and you won't be able to keep from smiling when prospective renters ask "Can I pay my rent online?"
What's the Best Way to Accept Rent Payments Online?
Many are curious about the ways to collect and pay rent online, and what it comes down to is utilizing modern technology that streamlines internal processes and gives renters choices that meet their needs and expectations. There are also considerations other than simplifying things for everyone. For example, simple online rent payment services are only an ideal choice if they come with virtually impenetrable security features. Likewise, saving time is only truly valuable if you don't have to compromise accuracy or customer service.
Learning how to collect rent online can be simple. AppFolio property management software offers a wide range of payment collection and owner distribution options. When vendors, owners, and renters opt-in to electronic payments, property managers can streamline operations by digitally managing all receivables and payables.
Property managers will gain the greatest benefit by encouraging renters and ownersto transition to paperless commerce. Here are eleven reasons to move toward automating your rent payment process that you and your renters will love.
#1 Big Data & Analytics: Informing Property Management Decisions
Accurate records are essential for operating a successful business. Digital transactions are 100% accurate and provide an efficient path for sharing rent payment histories with credit bureaus and need-to-know external partners. Back office data also allow management teams to identify trends, such as late payment frequency, non-rent assessments and payment type preferences that may change over time. Another advantage of maintaining real-time electronic archives is defending eviction actions for renters with a consistent delinquency or skipped payments.
Analytics across the property management platform inform better business decisions, encouraging owners to accept monthly disbursements and pay assessments online gives your team a clearer, more complete snapshot of the organization's financial health.
#2 Enhanced Security: The Best Online Rent Payment Service Protects Renter Privacy & Identity
A well-designed property management system has security baked into every step of the customer engagement process, including online payment portals. With a payment portal that protects both in-transit and idle data, renters can pay rent online without worrying about identity theft, and property managers can have confidence their data is shielded from unauthorized view.
#3 Accuracy: Eliminate Error-Prone Manual Auditing & Editing
Accounting errors can be costly. Online rent payment services prevent the most common accounting errors property managers face daily with paper-based record keeping systems. Digital payments eliminate double posting as well as failing to post a payment. Online payment processing also prevents data entry errors such as transposing numbers, such as entering 43 instead of 34, and improperly coding transactions which create inaccuracies in the balance sheet and other financial statements when category totals are transferred.
An automated system that prevents, or reduces, common errors saves organizations time, money and frustration while boosting overall productivity and efficiency.
#4 Integration: Seamlessly Build Relationships & Streamline Communications
Paying rent online via a fully integrated system allows tenants to access payment history, review fees, and assessments, and modify payment choices 24/7, no matter what property type. From the business side, the integration enables automated communication features that initiate text and email alerts when rent is due, as well as reminders about special assessments, prorated community fees and other one-time add-ons payable through the portal, regardless of the portfolio mix you manage.
#5 Cost-Effectiveness: Save Time & Money in the Property Management Industry with Housing Rent Payment Online
Approximately 90 percent of people polled for the Eighth Annual Fiserv Billing Household Survey still use cash occasionally to pay a bill or make a purchase – so, we haven't evolved into a cashless society yet. But, things are headed that way. Don't let that stat discourage you from encouraging your cash-paying renters to try a different form of online rent payments.
Renters can make cash and money order payments without taking the time to run to the drop box or mail the money order. It's made possible with a partnership AppFolio has with 7-11 and ACE Cash Express that enables all funds to be transferred entirely online.
This new option should appeal to the 24 percent of Americans households who don't have a credit or debit card. Although research shows the majority of consumers prefer to pay their bills electronically, directly on the biller's website, this cloud-based payment solution may be more attractive than their second most popular payment choice, paper checks.
Paper checks rob renters and business owners of valuable time and money. Renters have expenses like buying checks, envelopes, and stamps. They either have to spend time delivering the check to the leasing office or to a mailbox.
Property managers invest money in paying staff to open all those envelopes stuffed with checks, prepare deposit slips, and make a trip to the bank to deposit the funds. Then it takes five to ten days for a check to make its way through the clearing processes. Until that time, companies aren't sure if the check was honored or will be returned with that big NSF stamp (Non-Sufficient Funds). Once a check clears, more time is invested manually posting receipts, and updating tenant records. This entire process and the cost to the property manager can be avoided by taking advantage of online rent payment for landlords.
A 2015 study conducted by the Association for Finance Professionals comparing the cost of processing paper checks versus electronic payments found that e-payments were significantly less expensive for businesses than paper checks. Numerous surveys confirm that accepting eChecks, ACH transfers and credit card payments save companies at least 50 percent compared to accepting non-electronic cash, checks and money orders, depending on the transaction type. Sometimes paper check processing costs as much as ten times more than processing an electronic payment.
The total cost of accepting an ACH transfer falls someplace between 25 cents and 60 cents, depending on a wide range of factors, including geographic location, bank policies and the volume of transfers that flow through a business account each month. Processing a paper check, on average, costs between $1.25 and $3.00.
Why spend all that time and money processing traditional checks, when ACH transfers are typically credited to the receiving bank in 2 or 3 days. It is hard to accurately nail down exactly how much money a business spends to process each check, but there is no doubt transitioning away from paper checks will save property managers time and money.
#6 User-Friendliness: Simplifying Processes for Staff and Clients
Simplicity matters. Renters want to pay their bills quickly and efficiently so they can get back to doing things they enjoy. Setting up a recurring auto payment online only takes most people a couple of minutes from start to finish. Property management software companies often provide online FAQ sections for new residents and will be able to help you create a mobile-friendly downloadable copy or a printable version to hand out during the lease signing process.
While staff should be able to answer fundamental questions about signing in and finding the online rent payment button on the community website, the automated system doesn't require lots of babysitting or administrative monitoring. If a resident makes an error when entering an eCheck payment, such as overpaying or submitting a payment from the wrong bank account, a bank representative is the only one that can help a tenant correct the problem – neither the software vendor nor the property management company has the authority to reverse a credit card or a bank transaction.
#7 Affordability: Create Value Without Busting the Budget
Implementing a user-friendly digital rent payment policy for residents doesn't have to create financial burdens. Affordable property management software packages come with online renter and owner portals designed to make electronic payments cost-effective and straightforward for everyone involved.
#8 Flexibility: Customizable Plans for Every Size & Shape Business
Payment portals are flexible, and the more options you provide, the better chance you have of getting your rent payments in full, and on time.
A property may want to provide online choices – ACH, eCheck, credit cards, debit cards, electronic cash/money orders, and bank drafts – while accepting cash, money orders and paper checks in person. Some properties eliminate all non-digital payment forms to maximize savings and efficiency. Custom solutions empower C-Suite leaders to modify processes to accommodate policy changes and human resources.
#9 Engaging: Creating Appeal for Desirable Tenants
According to the National Apartment Association, every lease signing interaction should include a brief discussion about how to pay rent online. Four out of five tenants today prefer paying bills electronically. While some tenants don't mind paying a convenience fee for using a debit or credit card, others are looking for a no-fee transaction option such as a bank draft or an electronic check, so it is important to offer several choices.
Property management firms who reluctantly embrace electronic payment solutions may see electronic payment options as a way to appease the "digital everything crowd," but in reality, landlords and their management teams are the real winners.
#10 Accepting Rent Payments Online: Attract Well-Qualified, Unbanked Renters
According to the latest available data, less than 8 percent of US adults don't have access to financial institution accounts or payment options via mobile devices. Some may assume that poor credit keeps most people from opening a checking account. However, people who choose alternative financial solutions, aren't necessarily doing so because they lack credit or don't have sufficient income to meet financial obligations.
Working with the unbanked to find a satisfactory way to pay your rent online, such as credit card or ECP, benefits property management companies, owners, and renters.
#11 Scalability: Your Online Payment Gateway Grows With Your Business
Utilizing technology to build a robust, customer-focused business demands scalability. Cloud-based property management payment portals grow with your organization without a heavy financial investment. So, whether you are stable, planning to expand, or planning to take a property asset out of availability status for major renovations, cloud-based technology adjusts instantly to meet your demand. No long-term contracts or extensive coding chores to slow you down. When you see room for growth or a temporary contraction, your technology is ready at a moments notice.
Take Control of Your Digital Cash Flow With Online Rent Payment Solutions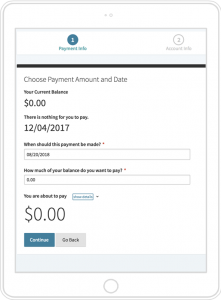 Gain tighter financial control with digital payment solutions, starting with encouraging prospects to submit the initial application fee online. Then, educate tenants and homeowners about the myriad advantages of sending and receiving payments with the cloud-based portal. Send payments to owners and vendors, and process deposit returns using eChecks or allow your property management software to pay recurring charges with bill pay services. The more you automate, the more accurate your records are and the more time and money you save.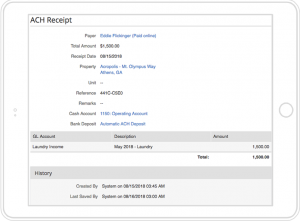 We are moving closer to a cashless society. The best way to collect rent online is with property management software and technology that simplifies internal and external transactions. When you're ready, AppFolio Property Manager is eager to help you make the transition for your team smooth and effortless.
AppFolio Online Payments for Property Managers
AppFolio property management software offers a variety of convenient online payment options for accepting rent online. Prospective renters can pay application fees seamlessly with their credit card, current renters can make online rent payments with credit cards (or debit cards) through AppFolio's easy-to-use online portal, and renters can securely pay rent directly from their checking or savings account to your operating account with eCheck (electronic funds transfer)—it's free for you and your renters!
No Credit Card or Bank Account? No Problem
Did you know that 24% of U.S. families don't have a credit card or debit card – they use cash or money orders to pay rent each month. AppFolio's Electronic Cash Payments offer an alternative to the risky business of accepting cash or money orders in your property management office. Renters who pay in cash or money order from a 7-Eleven or ACE Cash Express can avoid going to your office during business hours or worrying about dropping a money order in the after-hours drop box. This service is completely built into AppFolio Property Manager, allowing your staff to avoid manual data entry and eliminating the risk of money order theft.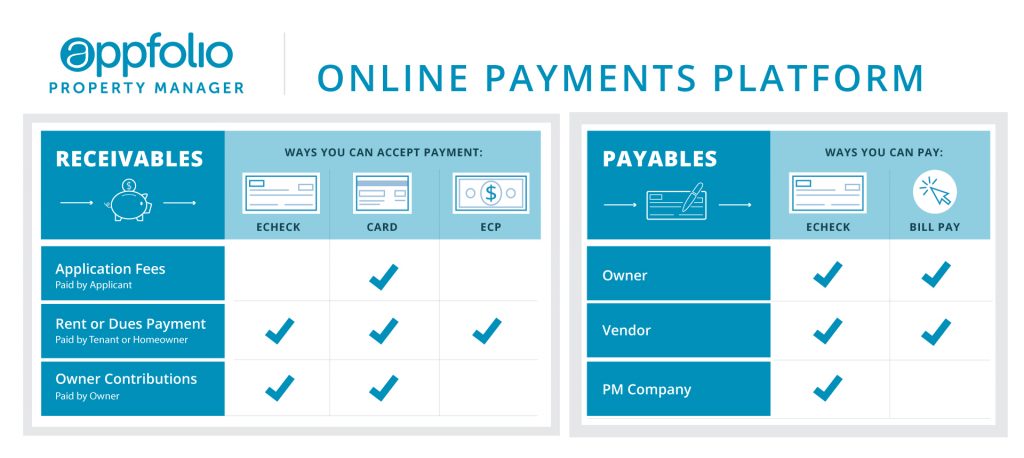 For most renters, the best way to pay rent online is with the method that is most convenient for their situation. Whether your renters prefer to pay via their checking accounts, credit cards, or with cash, you'll find an option that works best for them with AppFolio Property Manager. Care to see how it's done? We'd love to give you a tour and show you the difference modern software can have on your property management business.