Groundhog Day: Fast Facts
Groundhog handler John Griffiths holds Punxsutawney Phil after he saw his shadow predicting six more weeks of winter during 128th annual Groundhog Day festivities on February 2, 2014 in Punxsutawney, Pennsylvania. (Jeff Swensen/Getty Images)
Groundhog Day is an annual holiday in the United States celebrated every February 2.
It was officially established online casino in 1887 by the Punxsutawney Groundhog Club who have monitored the event every year since. "Punxsutawney Phil" has been the name of the resident groundhog for the club since its inception, and they jokingly claim there has only ever been one Punxsutawney Phil.
According to the legend, if it's cloudy when Punxsutawney Phil emerges from his burrow on this day, then spring will come early; if it's sunny, the groundhog will get scared by its shadow and run back into its burrow, bringing on six more weeks of winter.
     So cloudy good, sunny bad!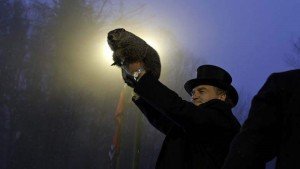 Compliments of:  http://heavy.com/news/2015/02/groundhog-day-history-origins-candlemas-information/