Check out our list of 10 home features and their expected lifespan, plus what you can expect to pay to replace them.
---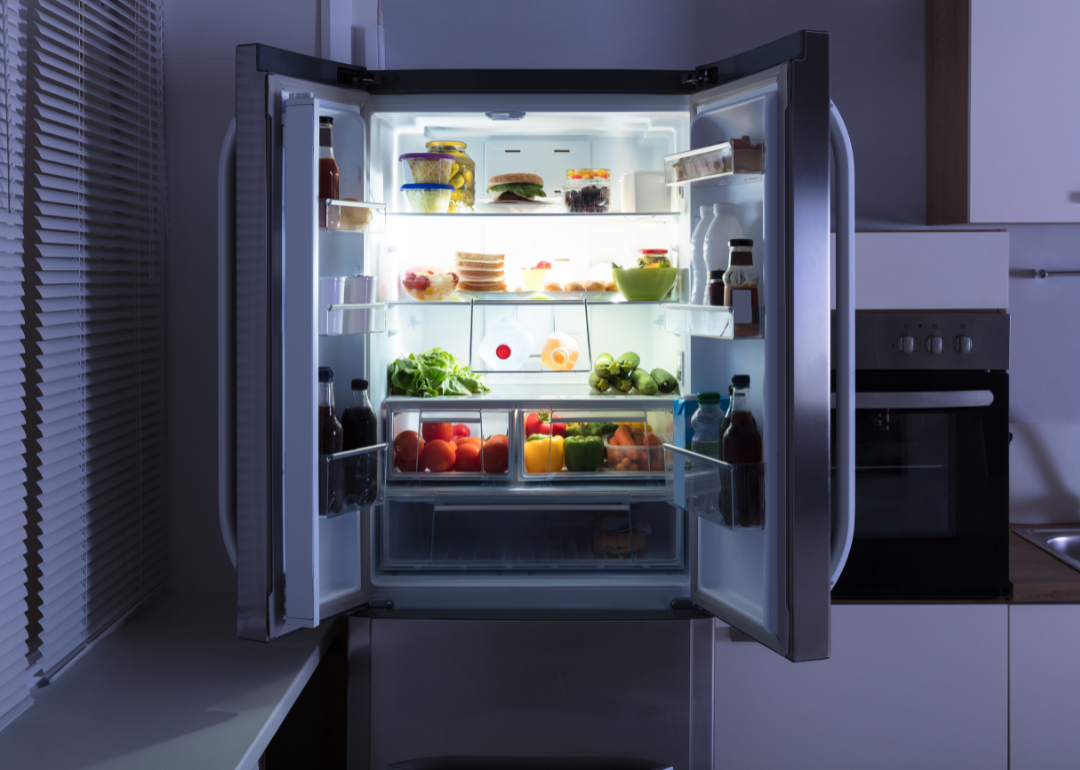 Canva
1. Refrigerator
An open refrigerator full of food in a kitchen with the lights out.
– Lifespan: 15 years
– Cost to replace/renovate: $500 to $3,000
The lifespan of a refrigerator depends upon many internal systems continuing to work together, meaning that performing monthly and annual maintenance can add years to a fridge's functional life. Performing tasks like vacuuming the condenser coils, located behind the fridge, and making sure the top of the refrigerator isn't cluttered, will make the appliance run more efficiently.
Even with routine upkeep, however, fridges tend to not function as well after 10 to 13 years. If a fridge has advanced electrical systems and features, such as built-in smart devices, repairs and replacement parts are more expensive. Some signs that it's time to buy a new refrigerator include constant loud motor noises, food spoiling quickly, and unusual heat from the coils.
---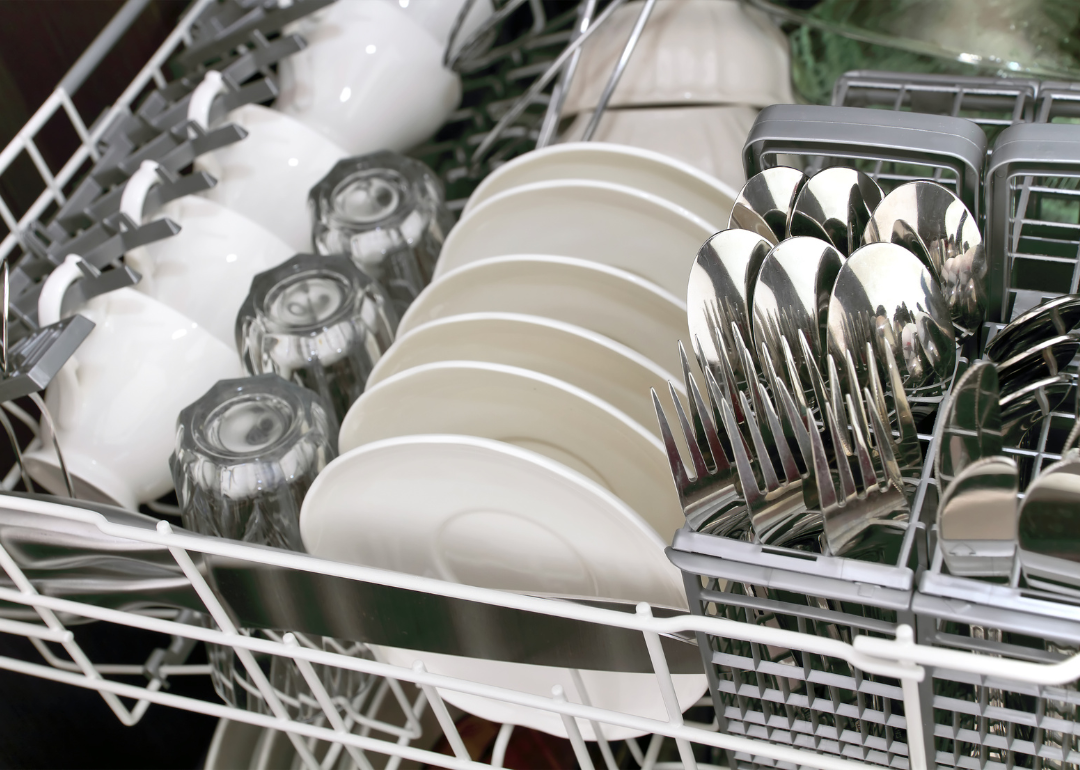 Canva
2. Dishwasher
Neatly stacked cups, plates and silverware in a dishwasher.
– Lifespan: 12 years
– Cost to replace: $970 on average
Like refrigerators, dishwashers can be expensive to replace, depending on size, features, and quality. Basic dishwasher models can cost as low as $250. You'll also need to budget for additional installation costs, including between $100 to $450 to hire an appliance installation professional. Other costs can come from removing an old dishwasher or upgrading older electrical or plumbing systems.
Dishwasher repairs often involve broken overflow systems, leaks, or ineffective cleaning. Performing upkeep tasks like cleaning mineral buildup from the spray arms, cleaning the drain tubes and filters, and replacing leaky seals can prevent more costly repairs, and extend the life of your dishwasher.
---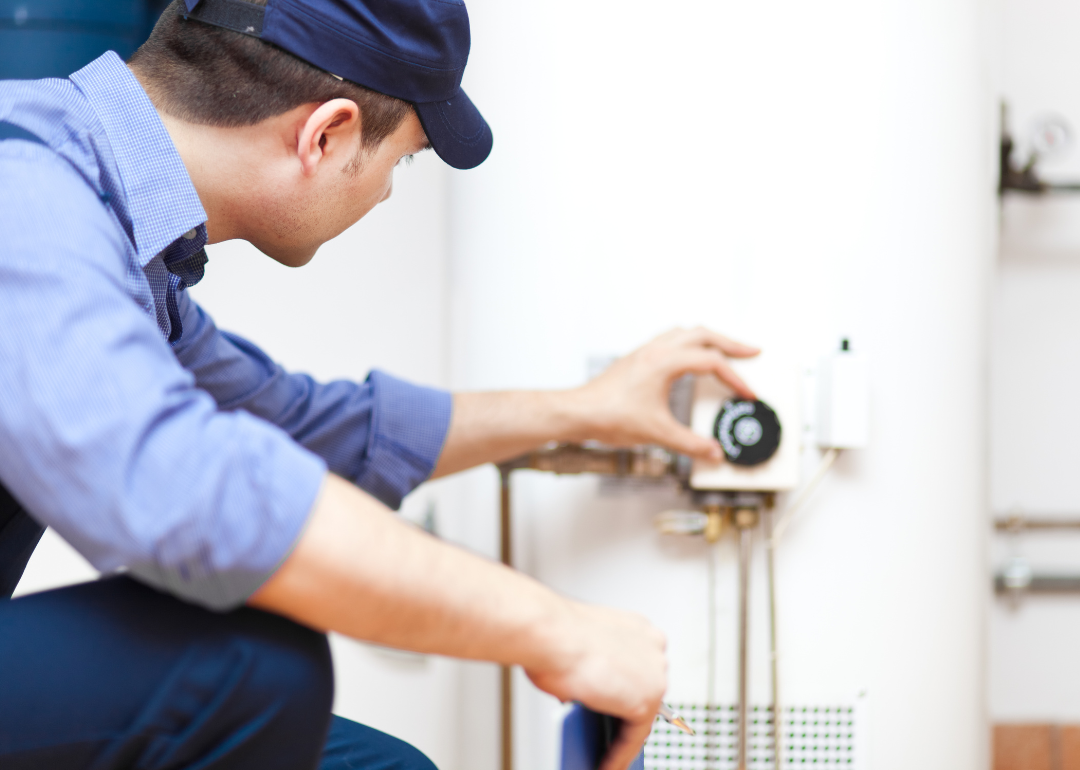 Canva
3. Water heater
A man in a blue hat inspecting a hot water heater.
– Lifespan: 10 years for tank models; 20 years for tankless models
– Cost to replace: $1,000 to $3,000
Water heaters often operate in the background of your home, not getting much attention until someone steps into a freezing shower, or worse, the tank springs a leak. While water heaters built in the 1950s and 1960s often lasted for multiple decades, contemporary tanks usually last about 10 years, depending on water quality and home location.
Tankless water heaters are a more recent development in heating technology and operate by heating water when it moves through the waterline instead of storing hot water in limited quantities in tanks. These water heaters are more expensive than traditional tank heaters, costing $2,400 on average, but usually have double the lifespan. Luckily, you can typically make minor water heaters repairs rather than replacing it, such as updating the heating element or fixing water pressure.
---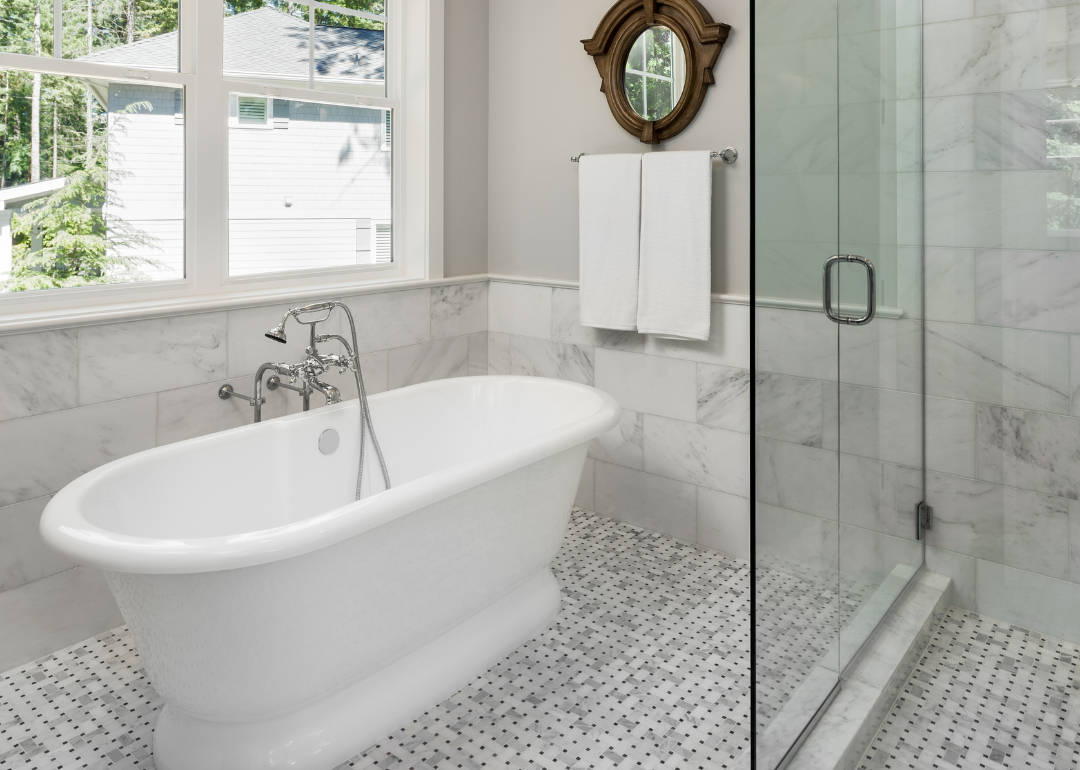 Canva
4. Shower enclosures
A bright grey and white bathroom with a white freestanding tub and glass enclosed shower.
– Lifespan: 50 years
– Cost to replace: $1,000 to $8,500, depending on type
The cost and effort of repairing or replacing shower enclosures vary greatly, depending on whether you're making a minimal change, like installing a new shower door, or larger changes, like adding a tub or changing the size of the shower. The cost of the parts and labor costs will depend on whether you're using prefabricated or custom materials.
While replacing a shower can be costly, it's an upgrade that can last—most showers have a five-decade lifespan, although some people opt to change things sooner because of changing trends or surface-level wear. Some common shower issues, like a leaky faucet or poor draining, can be fixed fairly easily by replacing a showerhead or using a plumber's snake tool to clear a clogged drain.
---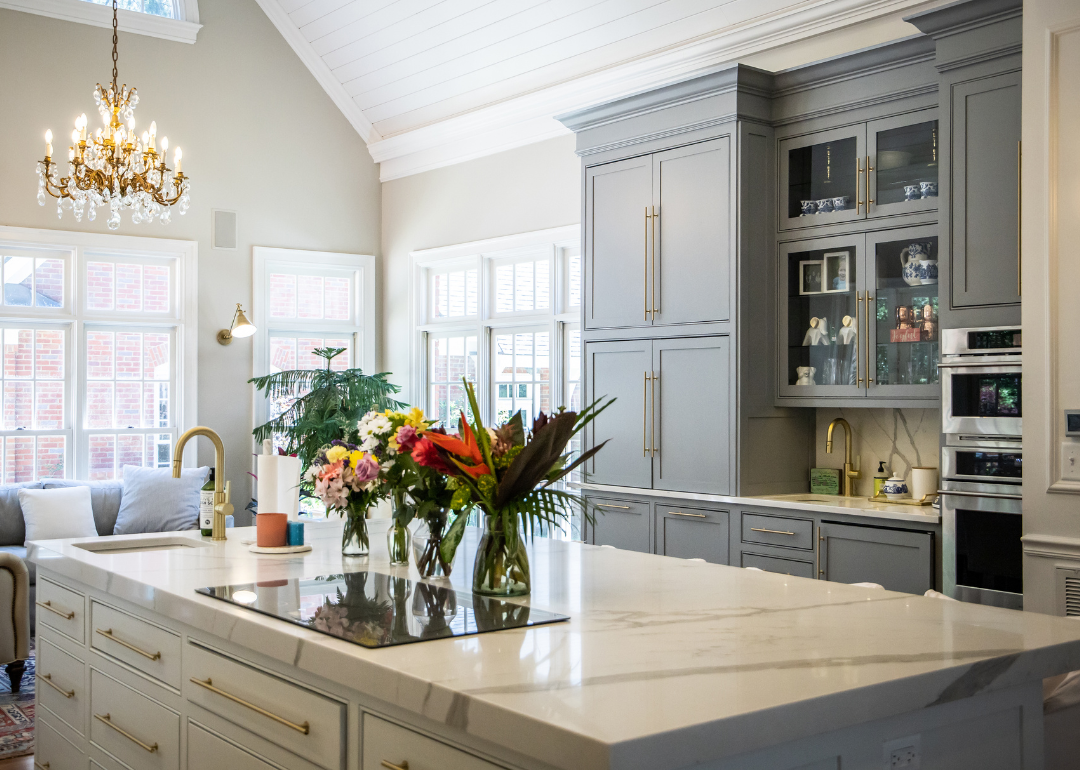 Canva
5. Marble countertops
A bright kitchen with marble countertop, grey cabinets and big windows.
– Lifespan: Lifetime
– Cost to replace: $2,000 to $5,000
Marble countertops are an elegant design feature for your kitchen, but they can also be a practical choice, as they are typically durable enough to last a lifetime. That durability comes at a price, however—buying a new marble countertop costs between $40 and $100 per square foot for materials, depending on the stone's quality. This price range doesn't include the installation cost, which can add thousands of dollars. Labor costs often vary based on the size of the job, contractor rates, and any additional supplies required.
After the initial investment, the countertops won't likely need much upkeep or repair. Depending on the stone's quality, the marble may need to be periodically resealed. You can often make small repairs inexpensively using an at-home repair kit.
---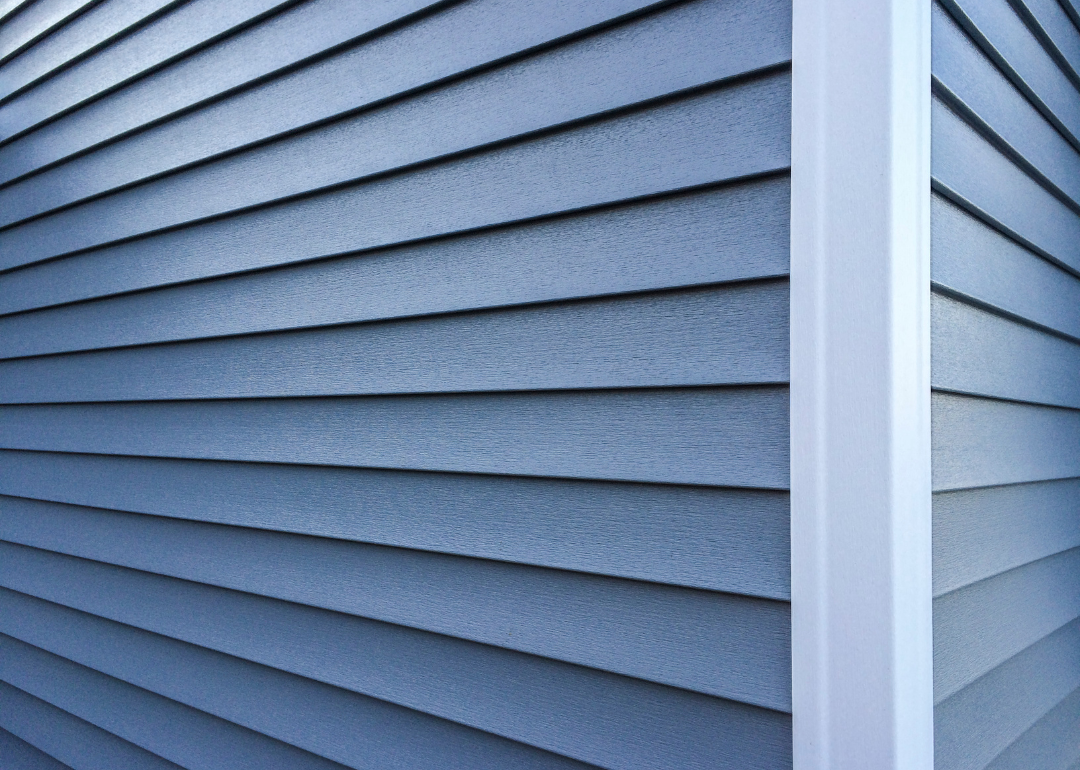 Canva
6. Siding
Blue vinyl siding on a house.
– Lifespan: 20 to 40 years
– Cost to replace: $5,400 to $70,000
Siding protects the structure of your home from the outside elements, but it is also an aesthetic choice. You can choose from many different siding materials, each with its own cost factors, including durability, lifespan, price, environmental friendliness, and upkeep.
For example, vinyl is on the low end of the price spectrum at $3 to $12 per square foot. This type of siding lasts between 20 and 40 years, but it discolors and doesn't stand up as well to extreme weather. Brick or stone siding lasts much longer but costs more to purchase and install. You can expect to pay $10,000 to $75,000 to replace brick siding. Repairs and upkeep can make siding last longer, including maintenance tasks like cleaning, patching holes, and checking for rot.
---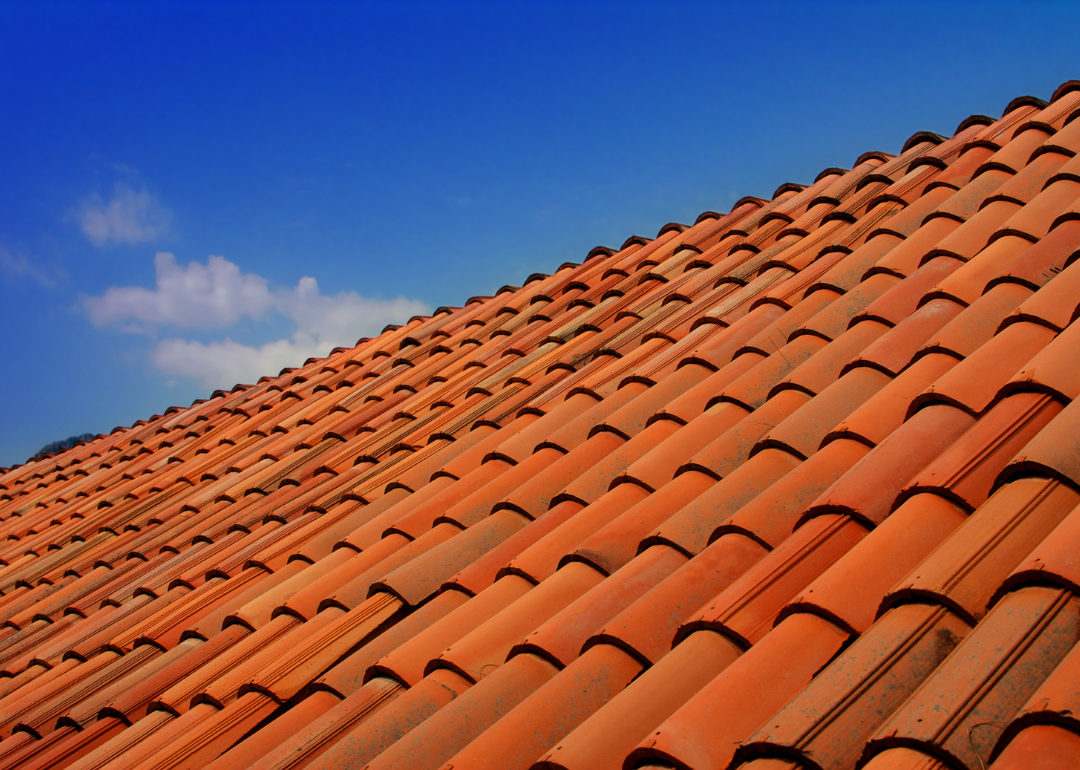 Canva
7. Roof
A red tile roof on a home.
– Lifespan: 20 years or more, depending on the material
– Cost to replace: $6,000 to $12,300
Roof damage can occur from falling tree limbs, debris, extreme weather, rot, and even animals making a home under shingles. While some damage is minimal enough that patching or reshingling a small section is enough to restore a roof to full functionality, some roofs, particularly older ones, may need to be replaced entirely.
Roof replacement costs vary based on the extent of the damage, but you can expect to pay between $6,000 and $12,300. Other factors that affect the cost include materials and labor costs, which can range from $1 to $3 per square foot. Common roofing materials include asphalt shingles, which are inexpensive and fairly durable, and slate, stone, or even copper, which cost more.
---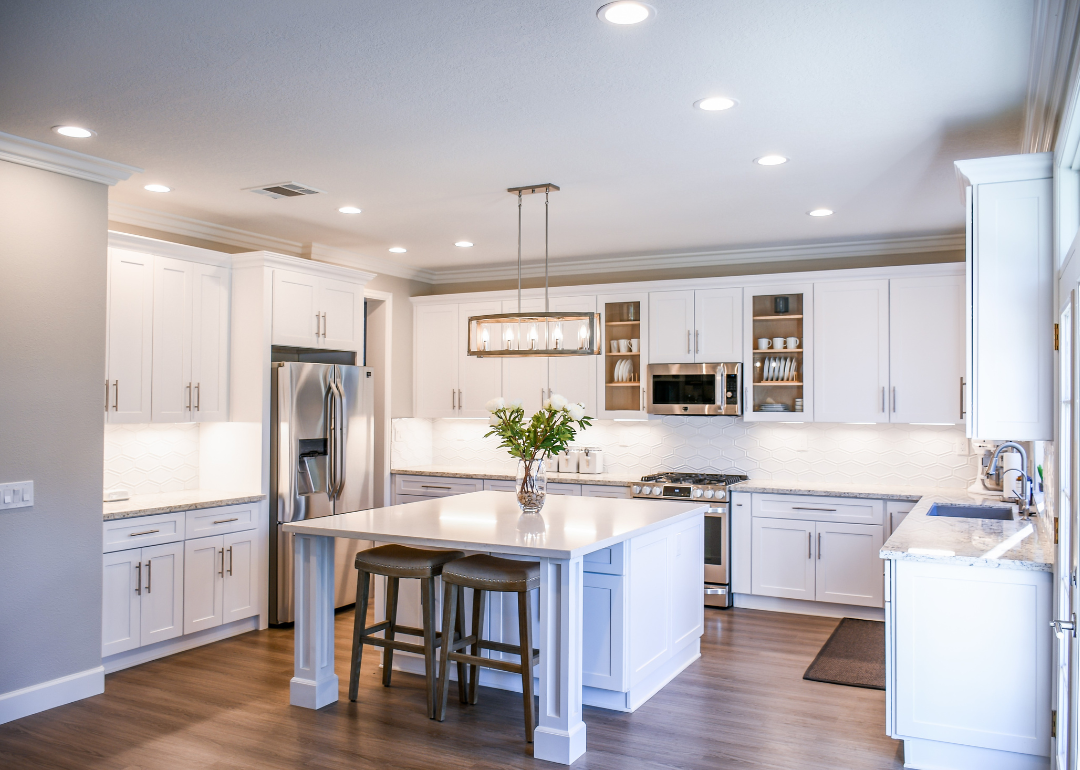 Canva
8. Kitchen cabinets
A kitchen with all white cabinets and an island.
– Lifespan: 50 years
– Cost to replace: $12,000 to $20,000
Changing or replacing cabinets can transform the appearance of your kitchen, but brand-new models come with a hefty price tag. Luckily, cabinets have a very long lifespan and homeowners usually replace them for aesthetic reasons rather than because of wear and tear. Cabinetry costs depend on the level of customization and materials and are generally priced by the linear foot.
Homeowners can avoid the cost of replacing cabinets by refurbishing existing ones to give them a completely new look—particularly if they're made of wood. Painting or restaining cabinets, replacing rusty or broken hinges, or changing out the hardware, can give the appearance and feel of new cabinets while keeping costs low, both economically and environmentally.
---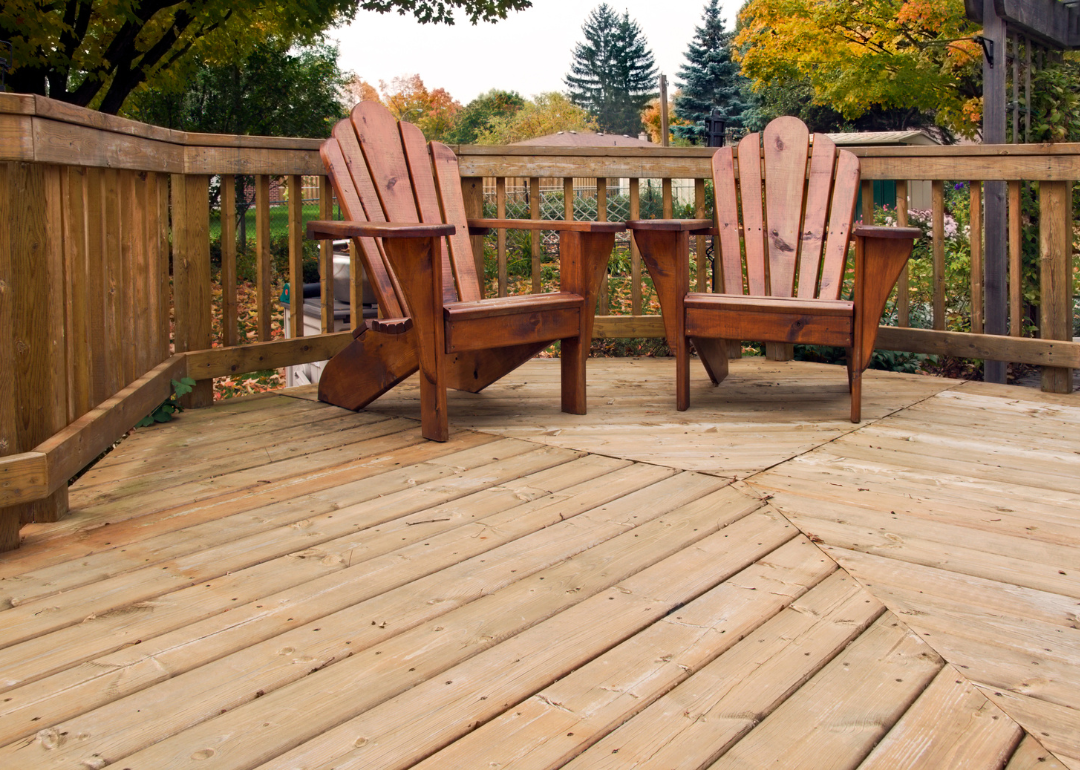 Canva
9. Wood deck
A wood deck with two adirondack chairs and a railing.
– Lifespan: 20 years
– Cost to replace: $19,000
A wood deck can offer more ways to enjoy your home's outdoor space, but its exposure to the elements means upkeep is essential to ensure the deck is safe and looking its best. Decks can be expensive to build from scratch, and larger decks generally cost more to build or replace than smaller ones. For example, pressure-treated wood costs about $15 to $20 per square foot. Building from scratch also involves other considerations, like whether the deck will rest on the ground or if it will be raised, and creating the structure accordingly.
Deck maintenance varies based on the level and type of weather exposure and materials used. Softwoods, like pine or spruce, are less expensive to install but tend to warp and deteriorate more quickly than hardwoods, like oaks or beeches, or composite decking. Maintenance like regular cleaning, resealing, and removing debris will help any deck last as long as possible.
---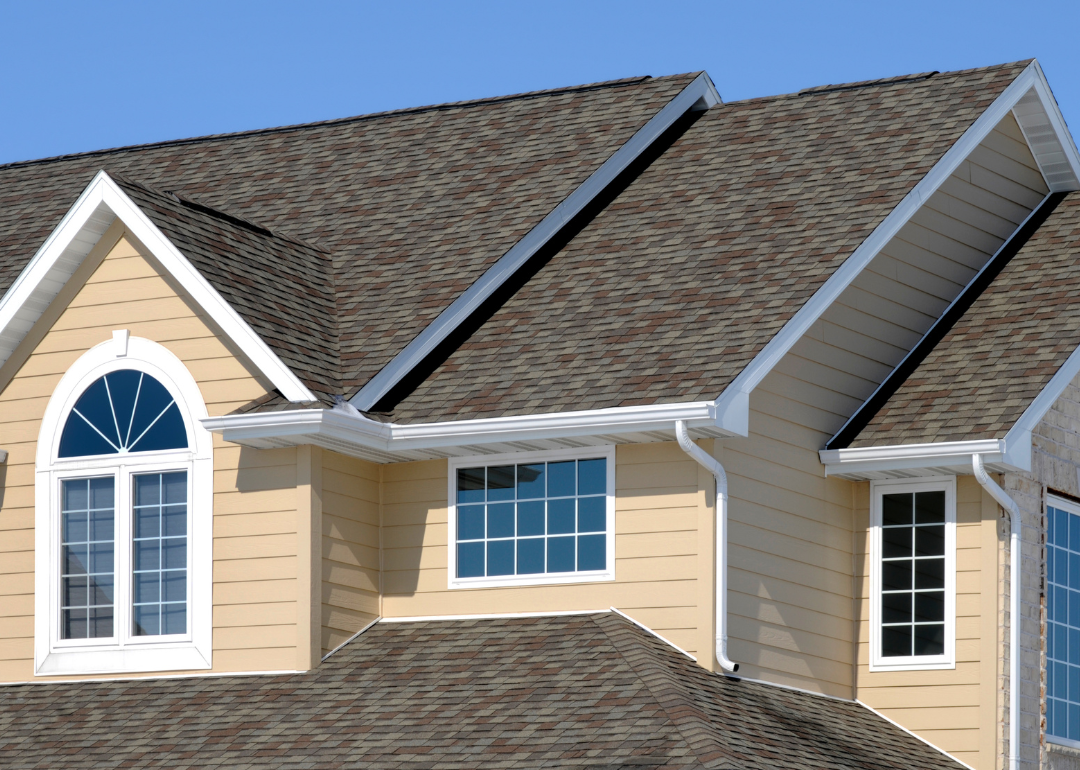 Canva
10. Vinyl windows
The second story of a beige home with big windows.
– Lifespan: 20 years
– Cost to replace: $100 to $900 per window
Vinyl windows—or windows framed with vinyl, as opposed to wood or aluminum—have become increasingly popular since the 1970s. That decade's energy crisis spurred innovations in window technology, including window coatings which improved energy efficiency, as well as vinyl framing, which insulates better than traditional wood. Vinyl windows are also less expensive to install than other types of windows, such as composite or fiberglass
Vinyl windows tend to deteriorate over time, however. Their semi-flexible nature can eventually lead to sagging or warping, depending on temperature and humidity. They're also generally less durable than wood frames and you may need to replace them more frequently.
This story originally appeared on Angi and was produced and
distributed in partnership with Stacker Studio.
The average lifespan of 10 common home features—and what it costs to renovate them – KESQ